This is actually the only photo I managed to take.
I love seeing Super Junior live. They're always so entertaining and so weird that they're well worth the money you pay. It was fun seeing it in Seoul, too, because it meant I got to see all the really intricate sets and things that I reckon they wouldn't be able to afford to ship to the UK if they actually managed to come over.
The gig was at the old Seoul Olympic stadiums, and the weather was wonderful. The venue was actually really great as long as you're not too bad with heights, because the steps were VERY steep, but it meant that actually everyone could see really well.
The only reason I didn't get a photo is because the usual SM rules were in place. No photos. And after seeing security people actively get people to delete any photos they'd taken (although they kindly didn't wipe your gallery and allowed you to keep selfies, contrary to what I've heard before) even during the show - targeting people they'd spotted with a laser pen and hunting them down pretty diligently - I didn't want to risk it.
But, because there were some incredible things to share, I'll use some found images. As usual, if it's yours and you want me to take it down, just ask~
Also, if you're thinking of seeing the tour in another country and don't want it spoiled for you, I'd recommend skipping this post, because it really is so much better to be surprised by these things. I laughed SO much.
As usual, it was the most ridiculous, energetic, funny, engaging and extravagant performance, with a storyline for the first act, seemingly-constant fireworks and laser shows, tons of costume changes and the...erm...usual drag act. Haha. Here's the official trailer, which doesn't really do it justice:
Okay, so I'm struggling to find any photos now, and enough writing should have passed for the people who don't want to be spoilt to have closed their tabs, so I'll just cut to the best two bits (in my opinion). Firstly, Siwon, in a furry horse costume, dancing to a rather unusual song. From the fact that everyone else started cheering and singing along, I'll assume it was a big hit in Korea, but for us it was just a bit like...what?!
After the show, Nick looked up the song and found the original they'd covered, which it turns out is just as strange and explains the horse costume a little bit more. (Other than the fact that the title 야생마 means something to do with wild horses.)
So, uh, yeah. There's that. In addition to this, there was a large segment where Shindong dressed as Olaf from Frozen. As with the rest of the world, South Korea has been totally swamped with Frozen hype, so it made a lot of sense for them to reference it in their show...but I wasn't expecting this.
He introduced the 'competition', which started off with the rest of the group in a darkened room and talking about how they would interpret Elsa, a la Stars in Their Eyes. "Tonight, Shindong, I'm going to be...Elsa Jackson."
What?
Yeah.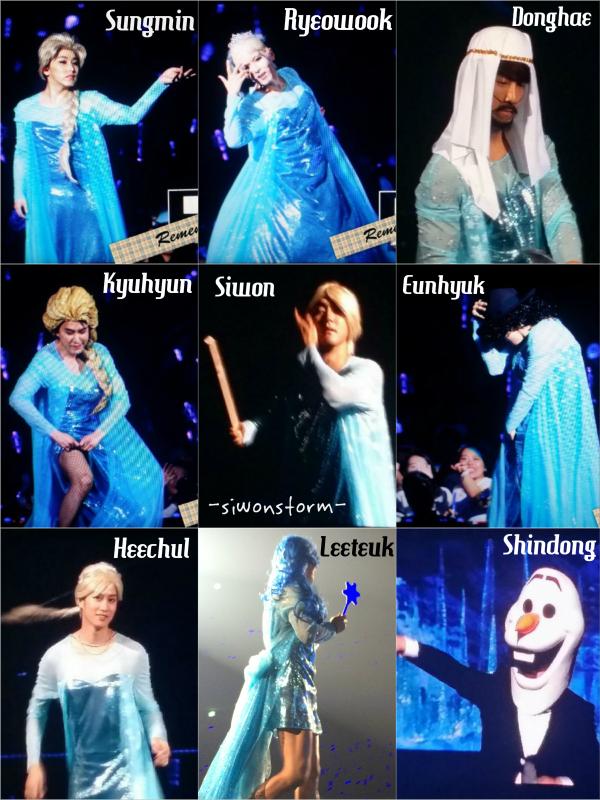 nabbed from @SIWONstorm on Twitter
I also found this GIF floating around on Tumblr, displaying quite nicely the reason why I was so outraged by seeing Leeteuk in that sparkly minidress.
JUST LOOK AT THOSE LEGS. IT'S NOT FAIR.
Anyway. That's pretty much all I have to say, hahaha. Go and see SuJu live if you can. Just go. If nobody will go with you, go alone. But make sure you go.